Vermont Edition VPR – Wildlife CSI
Vermont Public Radio – http://www.vpr.net/episode/45886/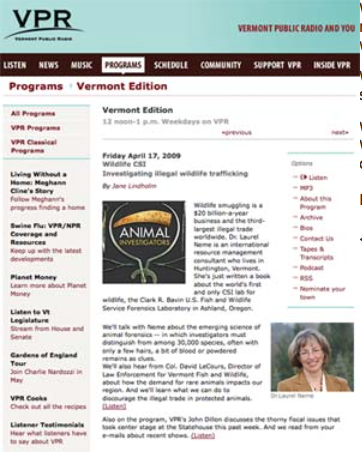 Wildlife CSI
Investigating illegal wildlife trafficking
Wildlife smuggling is a $20 billion-a-year business and the third-largest illegal trade worldwide. Dr. Laurel Neme is an international resource management consultant who lives in Huntington, Vermont. She's just written a book about the world's first and only CSI lab for wildlife, the Clark R. Bavin U.S. Fish and Wildlife Service Forensics Laboratory in Ashland, Oregon.
We'll talk with Neme about the emerging science of animal forensics — in which investigators must distinguish from among 30,000 species, often with only a few hairs, a bit of blood or powdered remains as clues.
We'll also hear from Col. David LeCours, Director of Law Enforcement for Vermont Fish and Wildlife, about how the demand for rare animals impacts our region. And we'll learn what we can do to discourage the illegal trade in protected animals.